10/23/2018

Publishing & Creative News
Who are founders in tech accountable to (WIRED)?
'It's no fun if you don't piss off and embarrass your ancestors' (AAWW).
Eleven books towards a trans cannon (The Paris Review).
'You are more than the work you make, inherently worthy if you never draft another piece before you die' (Little Patuxent Review).
Unraveling the history behind the Bayeux Tapestry (History Extra).
'We always talk about disguise as though it's an onion, whether you're building it or whether you're peeling it off' (Laughing Squid).
Painting Matthew Shepard, twenty years later (High Country News).
Outcome paths from 'Choose Your Own Adventure' (Atlas Obscura).
Analyzing literary markets and prompts on the body (Submittable).
Some Opportunities
Meridian seeks poetry, fiction, creative nonfiction, and art for print publication.
Poet's House is accepting master class applications.
For its fourth Microtext anthology, Medusa's Laugh is seeking concise, creative pieces.
The Science Fiction + Fantasy Short Film Festival is still considering short films for the 2019 festival.
Diane Seuss will judge The Penny-Farthing Prize for Lyric Poetry from Guesthouse.
Black Mountain Institute and The Believer invites applications for residential fellowships from emerging and distinguished writers.
Through The Boston Foundation, Live Arts Boston will provide up to $15,000 in project-specific funds to performing artists, small performing arts organizations, bands, groups of artists, producers, and presenters.
Hospitalfield is accepting residency applications for interdisciplinary work and printmaking.
The UCLA Center for the Study of Women invites papers, roundtable presentations, and poster proposals for its 29th Annual Thinking Gender Graduate Student Research Conference.
Writers in Paradise conference is accepting workshop applications.
For its Spring/Summer 2019 issue, Nimrod will feature poems, short stories, creative nonfiction pieces, and translations by writers from the Middle East and North Africa.
Quiddity seeks prose and poetry from emerging and established writers around the world.
Artlink Inc. is seeking an Arizona artist for its Park Central Mural EAST project.
Philadelphia's Moonstone Arts Center has an open call for chapbook and poetry contest submissions.
Fiction, poetry, creative nonfiction, and art/comics sought by mojo for its online journal.
International Print Center New York seeks applicants for the New Prints Program.
Thorntree Press is seeking work for 'A Whore's Manifesto,' a forthcoming collection of art and writing by current and former sex workers
For 'small & mighty,' a juried exhibition, The Clay Studio of Missoula is calling for entries from artists in the United States, Mexico, and Canada.
Studio Institute seeks students who want to spend 6 weeks in Venice, Italy this summer working at the US Venice Biennial Pavilion interpreting the work of sculptor Martin Puryear.
Come work with us in Missoula. Find Submittable job opportunities here.
What We're Listening To
The latest Submishmash Weekly playlist:
A heroic dose of 90's Hip-Hop, Nu Guinea serves up coastal grooves and Italo-boogie, Neneh Cherry with broken politics, and more.
We also recommend Soul Glo playlist, featuring choice soul selections—follow Submittable on Spotify for all the good stuff.
What We're Reading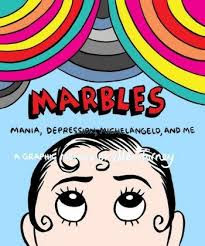 Submittable illustrator extraordinaire Josh Quickis reading Marbles by Ellen Forney.
I was introduced to Ellen Forney through I Love Led Zepplin, her graphic novel with curious kinetic brushstrokes about butt-kicking female friends and her edgy adventures in Seattle. She published Marbles years later and it is an honest depiction of her struggle with bipolar disorder and her work to become stable. Marblesdescribes coping strategies that help her in her struggle through a visual journal format